BOOK-

UP

v. 2.0

Poggio ai Cieli Agritourism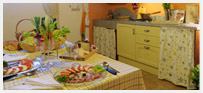 Girasole House
After the Summer of 2011 we have enlarged and improved our offer with a new
independent flat
, the ďCasa GirasoleĒ.
It was the owners old house situated between the old farmhouse which hosts the other
flats
, and the
garden
around the
swimming pool
.
Itís an independent building of 76 sq.metres in size. Itís got two large
bedrooms
(one of which is a real
bedroom-living room
complete with fireplace), a large bathroom with bath, shower and bidet and a well illuminated
kitchen
(equipped for 6-8 people).
Itís an airy and sunny house with windows on all sides, and with detailed finishing touches.
The entrance is characterized by a long covered balcony where you can refresh yourself in the evenings and an open air area with a view of the
swimming pool
.
It has also got a private sheltered
car park
.
The position is blessed with a beautiful view overlooking the
swimming pool
and the wood, over the Val díElsa and the surrounding countryside. This makes Casa Girasole a magical place for
an unforgettable holiday
.
As with the other
flats
, the kitchen in Casa Girasole is equipped with a level cooker, fridge, microwave, cooking pots and pans, kitchenware, tablecloths, dishcloths and kitchen utensils.
One of the large double beds can be divided into single beds.
The bed and bath linen is changed weekly: a bath towel, medium towel and a small guest towel, and a bath mat.
Change of bed and bath linen at an extra cost.
Photogallery
Casa Girasole